Pregnant Britney Spears posing nude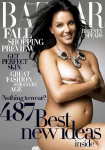 USA - Pop star Britney Spears appears naked on the August issue of Harper's Bazaar magazine, while she is heavily 6 months pregnant!
The newly-brunette singer & reality TV show celeb poses nude with her hands strategically covering her breasts. These pictures are reminiscent of gorgeous actress Demi Moore's Vanity Fair photoshoot 15 years ago. She is expecting her second child of husband Kevin Federline. Inside the magazine she shows us that a furry coat & a white thong/G-string is her thing!!
---
Ashlee Simpson, no Playmate but Victoria's Secret

USA - The hot pop star Ashlee Simpson has turned down 4 million dollars to pose nude for Playboy magazine.
But Jessica Simpson's sister is set to become the new face of sexy lingerie company Victoria's Secret, for the younger and cuter range: Pink. The "Invisible" singer beat out Kelly Clarkson.
---
Nude Sophia Loren in Pirelli Calendar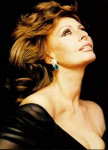 Italian actress (almost 72) Sophia Loren will appear in her first ever nude shot in the 2007 Pirelli calendar. Once she has performed a movie-striptease for Marcello Mastroianni, but ever refused to appear naked on camera.
The diva will pose together with Hilary Swank, Naomi watts and Charlotte Gainsbourg. This famous calendar is a sell-out collectible (only 40.000 copies) throughout its 30-year life thanks to supermodels like Naomi Campbell, Kate Moss and Giselle Bundchen & Jennifer Lopez.
---

Albert Einstein's Lusty Love Life
Germany - Albert Einstein, famous for its Theory of Relativity, was not exactly monogamous, according to published love letters.
The brilliant German scientist had more than half a dozen girlfriends, while he told his wife that he was stalked by this bunch of women.
Albert Einstein's home, 112 Mercer Street, Princeton, New Jersey, USA
---
Try before you die: Streaking at Wimbledon

UK - At tennis heaven Wimbledon, during the Maria Sharapova and Elena Dementieva game, a dutch television presentor of the programm "Try before you die" saw a change and showed all his manhood to the audience on centre court.
The complete nude man (nice butt!) made some funny jumps and was escorted away in a red cloth by some security personnel.
Streaking at Wimbledon is becoming a tradition. Lleyton Hewitt and David Nalbandian experienced it once at their game and Richard Krajicek met the female version Melissa Johnson, the queen of streaking, on centre court.
---
Sex is Cheaper in England
UK - It will be cheaper to make love in Britain, thanks to a reduction in sales tax (5%, before 17.5%) on condoms.
"Safe sex has never been cheaper," according to the UK public health minister. Birth control pills and other prescription contraceptives are (already) sold without any sales tax in Britain.