Playboy Exposed

The Playboy archives of over 15 million photographs made by more than 50 photographers are a great history of 20th century glamour.
The largest exhibition of its kind will feature more than 150 of the most top images of what the world has regarded as sexy since the magazine was founded in the 1960s, the Playboy Good Life.

Sex symbol girls like Marilyn Monroe, Ursula Andress, Jane Birkin, and Pamela Anderson are captured in the nude by fashion photographers Helmut Newton, Franco Rubartelli, Thierry Mugler, and David LaChapelle.
Naughty Playboy covers, some truly hilarious pieces of 1980s power-dressed yuppie soft-porn and in the center of attention ofcourse Playboy founder Hugh Hefner in his robe.

The exhibition will showcase legendary Centerfolds of some of the world's most glamorous Playboy Playmates & Bunnies, as well as transcripts from the best Playboy interviews with The Beatles, Muhammad Ali, Peter Sellers, Rick Salomon and Woody Allen.
PLAYBOY EXPOSED, Proud Camden, 10 Greenland Street, London, England
Basic Instinct: Sharon Stone Public Pubic Hair

Let's talk about the steaming interrogation scene in Basic Instinct I (1992) where the bisexual author Catherine Tramell, Miss Sharon Stone uncrosses her legs and reveals...blonde pubic hair, is she a natural blonde or is it bleached on purpose?
Famous interrogation scene: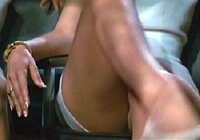 OFFICER CORRELI: Did you ever engage in any sadomasochistic activity?
CATHERINE: Exactly what do you have in mind, Mr.Correli?
OFFICER CORRELI: Did you ever tie him up?
CATHERINE: No. Johnny liked to use his hands too much. I like hands and fingers. (She spreads her legs in detective NICK CURRAN's (Michael Douglas) direction).
Before the movie's opening Miss Stone reportedly claimed she was unaware her private parts would be visible to this extent and complained that Paul Verhoeven had persuaded her to remove her panties, he told her that they reflected light back at the camera.

The rumour is that the revealing scene shows us a perfect trimmed pubic area with very blond hair, we are talking 1992 and Sharon Stone stays blond only by visiting her hairdresser on time.
Why put all this energy in this 2 inches area, covered with panties? What we do know for sure is that it was not part of the script!!

Oversexed Catherine Tramell is back in Basic Instinct 2 with her hyperactive libido, a touch of sadism, casual group sex, deaths and an investigation into her past. This time David Morrissey is the horny detective. Callback to the (scary) ice pick and is she a lesbian or not? You will be the judge!
SEX SIGHTSEEING

Catherine Tramell's address 162 Divisadero, San Francisco in the movie, filmed at 2930 Vallejo Street close to Baker Street. Her beach villa: Seadrift 1402 in the movie, Stinson, north of San Francisco. Filmed more north in Carmel Highlands at Spindrift Road.
The beach (Curran and Tramell walks) Stinson Beach in the movie, filmed at Garrapata Beach, Garrapata State Park (about 7 miles south of Rio Road in Carmel).
Nick Curran's tremendous apartment: 1158-78 Montgomery Street, San Francisco.
John Wayne Frankenpenis Bobbitt

The Bobbitt's are best known for a 1993 incident in which Lorena Bobbitt (Gallo) severed a portion of her husbands John's penis with a kitchenknife as he lay sleeping in their Manassas home.
Lorena, manicurist always handy, then drove off with the severed appendage and flung it out her car window.

After his reattachment surgery, Bobbitt briefly became a porn star, appearing in the movies Frankenpenis and John Wayne Bobbitt … Uncut, in part to finance the nine-and-a-half hour operation which reattached his private part.
Talking about Private Parts, John Bobbitt appeared on the Howard Stern TV chat show, during which he was offered $15,000 in cash to drop his trousers and display the surgeon's success, but he refused. John tried later on to sell the amputating knife at Ebay for 3.000.000 dollars, no one was interested!!!

Why Lorena did it? Well, John Bobbitt was selfish and wouldn't give her an orgasm! So men be aware!!!
SEXSIGHTSEEING
Manassas is a little town in the state Virginia, near washington with 35000 inhabitants.
Prince William County Courthouse, 1 county complex court, Prince William, VA 22192, (703)-792-4660

Moulin Rouge
Moulin Rouge, French for "red mill" (1889), offers a traditional nightlife Erotic dance revue for adult visitors from around the world with all the fun and frivolity of the Belle Epoque.

How has not seen the vibrant movie Moulin Rouge and witnessed the sexual energy between prostitute Nicole Kidman & writer Ewan McGregor?
Startingplace of the can-can, where 100 ladies dance with such an elasticity that we are allowed to presume that they are at least as flexible with morals.
The Moulin Rouge was inspired by the circus with in the beginning an attraction as the Pétomane (the 'farting' man) and a nude Cleopatra carried by four men and surrounded by nude women who lay, on flower beds.

Today it is a fantastic erotic show of womanly curves, mad costumes, crotchless panties and thousands of feathers!!
Situated in the red-light district of Pigalle, Boulevard de Clichy, 18th arrondissement, near Montmartre, Paris, France.

Picasso: Painters Party
Pablo Ruiz Picasso (1881-1973), world famous Spanish painter and sculptor, declared that SEX AND ART are the same thing!!

Never shy about depicting erotics in his work. From his earliest drawings to his last paintings when he reached the age of 90, sex, sex and more sex in all its pathos, pain, humor and lust is a constant influence.
Early works depicting prostitutes and patrons of Barcelona's notorious barrio chino, the red-light district. Oral, genital, bestial, consenting and forced, like the disturbing sadistic BDSM image of a nude woman in bed being strangled by a man.

Many of Picasso's erotic works of the 1950/1960's depict a female openly displaying her anus and vulva.
Picasso Museum Barcelona,3600 paintings, sculptures and drawings, Montcada, 15-23, Barcelona 08003, Spain,Tel: 933-196-310
Musée National Picasso Paris,5 Hôtel Salé, rue de Thorigny 75003, Paris, France,Tel:+33 (0) 1 42 71 25 21
Erotic Museum Hollywood, 6741 Hollywood Blvd., Hollywood. Erotic Picasso etchings