Everything you aspected, can be enjoyed in the Sex Museums around Europe!
Amsterdam: Erotic Museum

Achterburgwal 54, Amsterdam, The Netherlands, check out hotels in Amsterdam.
When you visit the Amsterdam famous & explicit Red Light District, it is a must to go to the Erotic museum, 5 floors filled with a collection of erotic enjoyment.

From way back in history till this futuristic century. Old masters and modern time artists nude & erotic european paintings, fine erotic carvings from the Tang dynasty and early 20th-century German pencil drawings.
More important pleasure than art: Free phone sex, A floor with unique erotic postcards, photo's and more then 500 erotic books. Scaled model of a live sexshow club Casa Rosso.

A special fairytale grotto with erotic videos will give you a look at purely sexcartoon porn. The seven dwarves with enormous erections, henti, Disney XXX, gigantic boobs and spanking dominatrix women as well as erotic cartoons of the Flintstones.

The museum also has drawings done by John Lennon, given to Yoko Ono as a wedding present. Not to mention a complete floor of SM Sado Masochistic objects and scenes, devoted to S&M, bondage, BDSM & Fetish. You will be surprised!
---
Amsterdam: Sex Museum Venus Temple

Damrak 18, 1012 LH Amsterdam, The Netherlands Tel.: 020-622 83 76
After a loud "Psst, hey " an elderly flasher opens his raincoat, you can enjoy one of Venus Temple's historic curiosities is "Sex Through the Ages," a 19th-century-style painting on a large rotating drum, from Adam & Eve on.

Photo's from porn movies, actually there is a section with three private-screening European porn free XXX movie cabins. Erotic artifacts from around the world, like the 19th century Austrian ivory dildo, 1920s penis-shaped walking sticks, wood carved fucking figures from native New Zealand. Naughty postcards & erotic playing cards.

The Venus Temple is the first and oldest Sex Museum in the world. With a special top floor for the special S&M, Bondage, BDSM & Sado Masochistic lovers.
Including a dungeon, a medical nurse set up and a mannequin pleasures us with her Golden Shower.
---
Barcelona: Erotic Museum (Museu de L'Erotica)

Rambla, 96-08002 Barcelona, Spain, Tel: (+34) 93-318 98 65, check hotels Barcelona
The museum of erotica is situated in the exciting heart of Barcelona with traditional interesting and ludic representations of erotic art: Indian reproductions of the KamaSutra, African wood carvings and European illustrations from the 15th to the 20th century.

Ancient Greeks and Roman objects depicting erotic scenes, through to 1920's posters. Other highlights include a collection of early erotic postcards, comics, and works by Pablo Picasso and Miro.
---
Berlin: Erotic Museum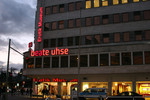 Kantstraße/Joachimsthaler Straße/Street, Charlottenburg, Berlin, Germany, Tel.: +49 30 886 0666, check hotels in Berlin
At the not most glamorous looking block in Berlin is the Beate Uhse Erotic Museum situated. Work down from the third floor, all types of erotica are democratically displayed — gay, straight, mainstream, fetish.

The 5,000 artifacts inside range over all of history and every culture. A collection of 18th Century Oriental drawings of sex scenes, including fine examples of Japanese Shunga asiansex art, with its oversized genitals, by Utamaro, Harunobu and others, accompanied by sexual accessories and virility charms, Whale penises, Balinese and African fertility objects and 19th- century Chinese brothel tokens.

The lower floors have their own porn X-rated video cabins and sex superstore, with something for everybodies taste and fetish. This extravagant monument to sex comes courtesy of one of Berlin's great advocate for sexual freedom, Beate Uhse and she always practiced what she preached!!
---
Copenhagen: Museum Erotica

Købmagergade 24DK-1150 Copenhagen, Denmark, Tel.: (+45) 3312 0311,
The Erotica Museum starts cultural well-thought out from Etruscan drawings and Chinese shunga paintings to Greek vases depicting a lot of straight and gay sexual activity.

On display are lifelike erotic tableaux created by Tussauds wax-craftspeople, erotic paintings, a collection of those dirty little French postcards Americans tried to sneak home through customs back in the 1920s and 1930s. Centerfolds Playboy, a "Dildo World".
As you ascend the floors of the museum, the more explicit it is. By the time you reach the fourth (top) floor, a dozen sex video monitors are showing erotic films, featuring everything from black & white underground soft porn movies from the 1920s to today's XXX porn releases.

---

Hamburg: Erotic Art Museum
Bernhard-Nocht-Straße 69, 20359 Hamburg, Germany, Tel.: +49 (0)40-317 841-0

Hotspot the Erotic Art Museum exhibits a terrific collection of 18th- and 19th-century French, German and Italian images of eroticism, Major 20th-century European paintings artists.
Including Otto Dix, Jean Cocteau, George Grosz, Keith Haring, David Hockney, Man Ray, Pablo Picasso, Tomi Ungerer and many others, like Henry Miller and John Lennon.
---

Paris: Museum of Erotic Art

72 Boulevard de Clichy, Pigalle district, Paris, France, Métro: Blanche, Tel.: 01 42 58 28 73. Check your hotel in Paris.
In the heart of the old red light district, near the famous Moulin Rouge is this Erotic Museum situated with an exciting collection ranges from the ancient religious art of India, Japan, Africa, etc.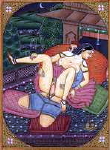 Japanese young couples sex education books, called Pillow Books & ivory figurines, snuff bottles, Yoni sculptures & a divine vulva from Nepal, chastity belts, photographs of the best Parisian brothels, when brothels were legal.
Indonesian phalluses, Indian Kama Sutra watercolours, Mochica Indians liked making their clay penis, Right up to contemporary art with an erotic focus. There are seven floors which house 2000 erotic objects and paintings.
It is all about sex but in an art/antropology kind of way, no X rated movies. The museum attracts more female visitors than male, so who says that women don't appreciate sex!
---

Prague: Sex Machines Museum
Melantrichova 18, Prague, Czech Republic, just off Old Town Square
Check in a hotel in Prague and visit 3 very divers museums. The Pragues Sex Machines Museum is specialized in sex machines, with 200 species, which should bring thrilling pleasure and allow extraordinary & unusual sexual positions during intercourse.

On display are medieval chastity belts, old erotic movies and Victorian anti and juicy pro masturbation devices. The star of the exhibition is the medieval dildo or anal butt plug. This scary sex machine is a wooden spinning wheel that moves the dildo up and down while sitting on it, on show with an extra finger for special excitement.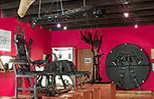 All people's freaky fetishes can be found here like state-of-the-art S&M BDSM equipment. Leather-clad mannequins tied up in a posts and pulleys SM machine, operated by a life size nun doll in latex.
Watch the other mannequins in latex and leather with a spiked hood over the face or a sado masochism black mask with a funnel and tube running into the mouth.

And ofcourse for your own pleasure and souvenirs, the gifted giftshop which sells giant condoms, novelty underwear, erotic figurines & very sexy perfume and salt shakers in the shape of boobs, tits, penis and all the other genitalia we have. No porn & smart drugs they say!!
---

Prague: Prostitution in Old Prague
Prague 2, Ke Karlovu Street 453/1, Czech Republic, Tel.: 224 922 183
This Police Museum exhibits Prostitution in Prague at the turn of the 19th and 20th century and how wonderfully the police solved this problem. Photos, police records and posters are on display, among others curious exhibits like a collection of samples of women's pubic hair.

Nothing is changed, Perstyn and Krakovska Street are still the streets for the oldest profession, but prostitution was regulated in those days in the 19th Century.
The Czech, but also hookers from Germany, France, Italy, Poland, Serbia, Croatia and Russia (so called ballet dancers) needed to have a health or prostitution book with a doctors "free of diseases" stamp which could be bought ofcourse like everything. Next to that she had to be of age, childless, single or divorced, and most importantly she could not be a virgin!!
---
Prague: Museum of Medieval Torture Instruments

Prague 1 - Old Town, Colloredo-Mansfeld Palace, Karlova 2 Tram 17, 18 and 53, Stop Køižovnická, Czech Republic

For all the S&M and sadomasochism lovers, the Museum of Medieval Torture Instruments in Prague could give you some inspiration with over 60 sadistic instruments of pain in exhibition which they used to molest, cut, part, rape and Illustrative engravings with historical explantions in many different languages.

Some gruesome examples, The Iron Maiden is a sarcophagus Russian nesting doll fitted with spikes designed to stab the body but miss the vital organs of a victim. What about knuckle-crackers, head crushers, cock and ball torture, forced to wear gowns with demons and devil or pig's head masks, the Spanish Garrotta Chair, who will fix a screw right through your skull and the Asiatic specialties like bamboo-under-the-fingernails.

And last but not least something special for all the cheated women with dominatrix aspirations, it even exhibits a male chastity belt!!


---

Saint Petersburg: Museum of Erotica
Furshtatskaya Embankment, 47/11a (metro Chernyshevskaya), Tel.: (812) 320-76 00, English tours by prior arrangement Tel.: (812) 314-98 83, check hotel prices
The first Russian sex museum opened in 2004 in St Petersburg, find some Russia love here. It exhibits the 30 cm/12 inches preserved very large penis of Grigory Rasputin, nicknamed "Mad Monk. His russian dick is acquired for 8000 dollars.
Famous for his unusual cult that he practiced at the Emperors' court a strange mixture of Christianity and sexual practices. He proclamed to have the power to heal Tsar Nicholas & Tsarina Alexandra son's sickness and predict the future.
Only after sinning could they repent and come closer to God, 'driving out sin with sin'. Rasputin, Alexandra & other women gathered in crypts, indulging in flagellation and sex orgies..