Lusting for the worlds most famous Red Light Districts, Amsterdam Live & Paris let you enjoy window prostitution, real live sex, erotic museums and peep shows. What about Soho, the heart of British sex industry and the sinful mile in Hamburg.

Paris Red Light District

The evening in Paris, Pigalle is famous for being the stimulating touristic red-light district, France with many sexshops and peepshows with striptease & pole dancers on Place Pigalle and the main boulevards.

Pigalle is famous for being the stimulating touristic red-light district of Paris, France with many sex shops and peep shows with striptease & pole dancers on Place Pigalle and the main boulevards.

For the milf hunter, hookers are operating in the side streets for all sorts of straight, gay & transsexual sex. It is situated around Place/Plaza Pigalle on the border between the 9th and the 18th arrondissements.
Looking for some adult entertainment, the Moulin Rouge and the Erotica Museum are located here. Public sex in Bois de Boulogne. At night, this popular park turns into a beehive of sexual frenzy, where lust can be serviced.

SEX SIGHTSEEING
Find yourself a Paris hotel discount and visit the Museum of Erotic Art, seven floors which house 2000 erotic objects and paintings, 72 Boulevard de Clichy, Pigalle district, Paris, Métro: Blanche, Tel.: 01 42 58 28 73.

Moulin Rouge, Nightlife Erotic dance revue for adult visitors from around the world with all the fun and frivolity of the Belle Epoque, Boulevard de Clichy, 18th arrondissement, near Montmartre, Paris, France
The Roland Garros tennis courts lie on the edge of the Bois de Boulogne park, 16th Arrondissement, Porte Dauphine, Tel. 01-40-67-90-82; Métro: Les Sablons, Porte Maillot, or Porte Dauphine.
Amsterdam Red Light District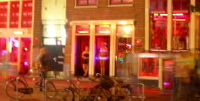 The exciting Amsterdam red light district in Holland also known as de Wallen or Rosse Buurt (Pink Neighbourhood), is a very touristic friendly neighbourhood with 350 brothels, several topless bars with striptease & erotic pole dancers, porn movie cabins, peep shows and real live sex shows.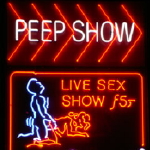 Unlike most cities, here the prostitutes sit in windows with red lights. The juicy sex shows will give you a demonstration in gripping objects or dildos with the vagina, a lesbian number 69 performance, male strippers and the real live sex show means a horny couple having really porn sex before your eyes, you can't miss it!!
This area has also 2 sex museums, the Erotic Museum and the Venus Temple for big fun! An upscale experience can be enjoyed at the Theater Casa Rosso, the best show in the Amsterdam red light district. And for everybody who is tired of their dildo and butt plug, go to the Banana bar. Naked girls who will show you some alternatives between filling your drinks and performing erotic tricks by using bananas as double-ended dildos and write with a pencil without using their hands.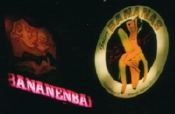 Amsterdam red light area is just by the Central station, Dutch prostitution is legalized since 2000, this makes it easier to regulate and tax. So no one should be scared or embarrassed to have a look around in a sex shop or other erotic joint.
De Wallenwinkel/Wallen-shop & prostitution information center is situated in a window prostition street. You can book tours in the red light district or lectures, shop for original naughty gifts, sex toys, erotic card games, porn content books, information and your own delft penis to play with.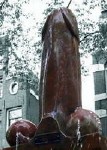 SEX SIGHTSEEING
Check out the hotels in Amsterdam and visit:
Erotic Museum, Achterburgwal 54, Amsterdam
Venus Temple, Damrak 18, Amsterdam,Tel 020 - 622 83 76
Theater Casa Rosso, Oudezijds Achterburgwal 106, Amsterdam
Banana Bar, Oudezijds Achterburgwal 37, Amsterdam
Yab Yum, high quality brothel, Singel 295, Amsterdam
Wallenwinkel/shop, Amsterdam information, Enge Kerksteeg 3, Amsterdam, Tel 020 420 73 28,

London Red Light District
The Soho area in London was the heart of Britain's sex industry for at least 50 years. With in the fifties several brothels and by the seventies, in an area stretching from Chinatown along Wardour Street, and up Old Compton Street.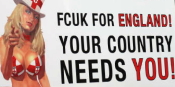 There were over 250 illegal sex shops, full porn european X movie cinemas, strip clubs cams and obscure bars with hookers or prostitutes soliciting in the streets. You can not call it really a red light district anymore nowadays.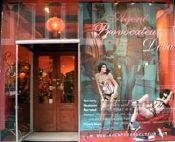 SEX SIGHTSEEING
Check in a hotel in London and visit the very famous sexy lingerie shops chain Agent Provocateur is based in London's Soho with celeb clients as Paris Hilton, Christina Aguilera, Kate Moss and Nicole Kidman. Known for their controversial "sexual innuendo" ads, featuring popstar Kylie Minogue!!
Agent Provocateur, designer lingerie shop, 6 Broadwick Street, SoHo London, England
Hamburg Red Light District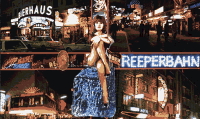 The German Reeperbahn, the sinful mile, is in the centre of Hamburg's nightlife and stimulating red-light district with sex shops, strip joints, peep shows and the opportunity for gay, straight, transsexual sex.
In the early 1960s, the Beatles played in several clubs around the Reeperbahn and John Lennon performed a song set in his underwear, The Erotic Art Museum is located near the Reeperbahn Street.

A few blocks away you will find some very extreme porn erotic theaters in the Grosse Freiheit, Great Freedom street. Many acts of sexual expression is shown in these explicite theaters.
It's been known to happen that a member of the audience suddenly decides to be a performer in the show or setting up an off-premises rendezvous with the artists.

SEX SIGHTSEEING
Reeperbahn, Hamburg, St. Pauli district, Check your flights to Germany.
Erotic Art Museum, classy collection of 18th, 19th § 20th century erotic images & european paintings by famous artists, Bernhard-Nocht-Straße 69, Hamburg, Germany Tel.: +49(0)40 - 317 841 - 0. Like Otto Dix, Jean Cocteau, George Grosz, Keith Haring, David Hockney, Man Ray, Pablo Picasso, Tomi Ungerer, Henry Miller and John Lennon.