Rasputin: in Sex-ness and in Health
The first Russian sex museum opened in 2004 in Saint Petersburg, it exhibits the 30-cm/12 inches preserved sex organ of Grigory Rasputin, nicknamed "Mad Monk, acquired for 8000 dollars.
Rasputin was born between the years 1863 and 1873 in his own home of Tiumen' Oblast, Siberia. Famous for his unusual cult that he practiced at the Emperors' court a strange mixture of Christianity and sexual practices

He proclamed to have the power to heal Tsar Nicholas & Tsarina Alexandra son's sickness and predict the future. He mixed religious piety and sexual hedonism Only after sinning could they repent and come closer to God, 'driving out sin with sin'.

They, Rasputin, Alexandra & other women gathered in crypts, indulging in flagellation and orgy sex. Rasputin had a very active sexlife. He was reported to hold orgies in the basement of his house & frequently seen picking up prostitutes.
Rasputin cut of locks of hair from women with whom he had sex. In 1977 his house was pulled down and there were several boxes containing hair buried in the garden.
The reputation of the imperial couple fell to pieces when he would brag about his sexual activity with Alexandra.
Rasputin was murdered at the Yusupov Palace on the night of December 16-17 1916, and his death proved to be an almost greater mystery than his life had been. Rasputin's renowned appetite for sex, the innuendo of a possible sexual liaison costed him his life.

SEX SIGHTSEEING
The Yusupov Palace, St. Petersburg
The Rasputin exhibition can be visited only by tour, English-language tours are available by prior arrangement (tel. 314-9883), 190000, Naberezhnaya Reki Moyki 94
Tel. +7 (812) 314-9883, Russia


The Wildest Oscar Wilde
Oscar Fingal O'Flahertie Wills Wilde (1854-1900), born in Dublin Ireland was a great Anglo-Irish playwright, novelist, poet, short story writer and a dirty gay dandy.
Wilde was aware of his homosexuality several years before he married in 1884. He preferred lower-class males, because their passion was all body and no soul.
He once bragged to a friend of having had sex with five different man in a single night. "I kissed each one of them in every part of their bodies. They were all dirty and appealed to me just for that reason".

He celebrated sex between men and was imprisoned for homosexual sodomite acts. "The only way to get rid of a temptation is to yield to it". The importance of being earnest!!
SEX SIGHTSEEING
Oscar Wilde House, Wilde's childhood home, Number One, Merrion Square, Dublin, Tel: + 353 1 662 0281
Statue of Oscar Wilde in Dublin's Merrion Square Park (Archbishop Ryan Park).

THE LONDON OF OSCAR WILDE, Orignal London of Oscar Wilde Walk takes place
every Saturday morning at 11 am, from Green Park Tube Stop (meet outside the north exit, on the corner).
Oscar Wilde's tomb can be found at the famous Le Père Lachaise Cemetery in Paris



Erotic John (Lennon)
Who knows that John Lennon of the Beatles created erotic drawings of his wife Yoko Ono?
John and Yoko spend their honeymoon in the Hilton Hotel in Amsterdam in a "Bed-In" for peace in 1969. His erotic "Bag One" portfolio/series were made during the week-long event; intimate drawings showing scenes from the couple's wedding and their honeymoon.
In january 1970 police raided a London art gallery and confiscated John Lennon's erotic lithographs for being too explicit.
SEX SIGHTSEEING

The Bag One Portfolio is on permanent exhibition at the Museum of Modern Art, New York, Erotic art museum in Hamburg & the Erotic Museum in Amsterdam.
It's also great to be able to see the erotic sketches in the context they were first created, in the original John & Yoko Suite specially for honeymoons and time is set back to 1969 in the Amsterdam Hilton, Apollolaan 138, Amsterdam, the Netherlands 1077 BG Tel: +31-20-710 60 00.
The John Lennon Museum, zone 5 Love & Peace, "Bed In", Saitama Super Arena, 8 Shintoshin, Chuo-ku, Saitama-city, Saitama 330-9109 JAPAN, TEL: 048-601-0009.


Exotic Spy Mata Hari
Dutch exotic dancer Mata Hari (stage name Mata Hari, malay voor eye of the day, = Margaretha Geertruida Zelle, 1876-1917) is most renowned woman in spy history-although she probably wasn't one.
For her exotic dance act, she posed as a princess from Java of priestly Indian birth, and her apparent willingness to appear almost nude on the stage was spectacularly successful in Paris and elevated erotic dance to a more respectable status.
Mata Hari the courtesan had cross-border liaisons with German political and military figures in influential positions came to the attention of the French secret police.
During World War II 1917, she was executed by firing squad at Château de Vincennes, France for espionage. After enprisonment in Saint Lazare, Parisian prison for women.

Rumour is that Mata Hari flung open her coat at the moment of firing to reveal her nudity beneath to the soldiers. The very naughty Marquis de Sade was a former resident of Château de Vincennes.
SEX SIGHTSEEING
The Friesian Museum in Holland has a permanent exposition about her illustrious former resident, in the Mata Hari Room and exhibits her authentic Parisian dance costume.
Château de Vincennes, Entrée principale, Avenue de Paris, 94300 Vincennes, Tel/: 33 / (0)1 48 08 31 20

Sex Symbol Rudolph Valentino
Rudolph Valentino (1895-1926) was the first male movie sex symbol
(androgynous) of the silent movie and played in several very succesful
films.

The Great Latin Lover, who embodied women's darker, forbidden sexual fantasies in those day's. The Sheik's Physique" (3 min. film) gives the ladies some soft-porn playfulness as Valentino stops his car at the beach, changes into his swimming trunks, and falls asleep on the California beach.
Valentino was born in Castellaneta (1895), Puglia, Italy and married a lesbian starlet in 1919. The marriage was never consumated, married again with a costume designer & art director but was being jailed for bigamy in 1922, since his first divorce was not finalized.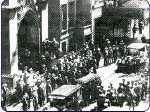 Before his Hollywood time, poverty drove him into odd jobs, the rumour is that he was a gigolo & exhibition dancer in New York. He also was a witness of a raid on a brothel, but never charged with prostitution.
SEX SIGHTSEEING
His funeral Mass in New York was celebrated at Saint Malachy's Roman Catholic Church, West 49th Street, between Broadway and Eighth Avenue, New York. Often called "The Actor's Chapel".

Really, a second funeral was held on the West Coast, at the Catholic Church of the Good Shepherd, and his remains were interred in the Hollywood Forever Cemetery in Hollywood, California, 6000 Santa Monica Boulevard. There is an annual pilgrimage on the day of Valentino's death, august 23 to his crypt.
His famous home, Falcon Lair. Benedict Canyon, 1436 Bella Drive, Beverly Hills, California.

Museum "Rodolfo Valentino" in CASTELLANETA,Puglia, Italy, dedicated to their most famous son. Personal documents and poems written by young Valentino. Original screenplay of one of Valentino's greatest triumphs, The Son Of The Sheik; all great authentic memorabilia, photo's and interesting period pieces are on show.
Museo "Rodolfo Valentino" Castellaneta
ex Convento di S. Domenico, Via Municipio, 19 - 74011, tel. 099.849.23.98
First edition of Valentino Film Festival in 2006, in Puglia, Italy.