Superman With Two Penises, double fun?

India - An Indian man born with two fully functional penises wants one of them surgically removed as he likes to get married and have a normal sex life.
This is an extremely rare medical condition, among one in 5.5 million men, called penile duplication or diphallus. Maybe we can still change his mind?
---
Strip Poker World Championship

London - 200 players from over 12 countries were competing in the historic World Strip Poker Champion event where the poker players played No Limit Texas Hold'em and set after 8 hours a new Guinness World Record as the largest strip poker tournament ever held.
Each poker player started the match by wearing five pieces of garment supplied by the organisers, a towel to sit on and to cover themselves, only after complete stripping!
---
Swedish Late Night Porn News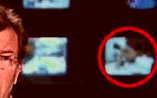 Sweden - On the Sweden's late night TV news, mistakenly an embarrassing porn movie was showed in the background.
The monitor normally shows other news channels during broadcasts, but they forgot to switch the channel back after a sports event on Canal Plus. This cable channel, sometimes called Anal Plus, shows often X rated movies at midnight.
Funny enough there were no complaints from viewers, only hudge media interest!
---
Masturbating American Judge Cums and Goes

USA - Four years in jail and a 40.000 dollar fine (indecent exposure) is the penalty for an American judge who was masturbating during at least 4 court sessions in 2002 & 2003.
Several people repeatedly saw Judge Thompson masturbating under his robe in court with the use of a penis pump. He attached the suction device to his penis, while five jurors reported hearing whooshing sounds. Semen was found on the robe and his chair.
The public prosecutor and judge in the Thompson case said that this was the most bizarre and surrealist court case in their lifes!!
SEX SIGHTSEEING: Creek County Courthouse
222 East Dewey Sapulpa, Oklahoma
---
Italian Highway Sex
Italy - Police officers stopped a swinging car on a North-Italian highway and discovered a 70 year old nude woman. Granny tried to have sex with the half naked 59 driver of the car. The police officer asked the couple to get dressed. The Italian police force spokesman could not say if the couple is married, but he thinks it is unlikely, because: "Married people would not do something like that probably." Oh really??