---

Tongli Town: Sex Culture Museum
Wu Jiang City Jiang Su Province 215217, China, 80 miles from Shanghai.
The Chinasex Culture Museum is one of the most popular tourist spots, which details the history of the Middle Kingdom's libidinous preferences with more than 3,700 erotic artefacts from all periods of ancient and early modern Chinese history.

The exhibition comprises 10 sex stuff sections: the evolution of adultsex, sex worship, the development of the marriage system, sexual oppression of women, sex accessories, erotica, sexual health, sexuality and religion. The museum exhibits include objects of ancient sex worship, and also on display are the tools used to bind womens feet, and to keep them chaste with chastity devices.

There are instruments used to torture women, a 17th century wooden 'sex pillow,' once used to prop a woman up for deep penetration, and artificial vaginas dating from 3500 years ago through to the Qing Dynasty (1644 -1911).
There are artifacts used in ancient sex education, and images relating to narcissism and homosexuality in those days. Dildos were encouraged in ancient China, especially for wealthy men with the thankless task of satisfying many concubines, named home prostitutes.
---

Bombay/Mumbai: Sex Museum Antaranga
Go on India Tours to find the Asiansex Museum Antaranga, it is tucked away in a century-old building near Bombay's dirty red-light "striptease & peepshow" district , India.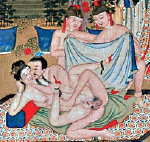 In Bombay/Mumbai, the land of KamaSutra, opened India's first Sex Museum: Sex Museum Antaranga (= Inner Self). The walls of the museum are covered with verses from the Kama Sutra.
Using India's traditions to raise sex awareness amongst the teens and India's enormous sex industry. Erotica, sperm, genitalia & condoms are combined with models of ancient sex goddesses.