Behind the Amsterdam Red Light District Scenes
Always wanted to experience window prostitution for yourself and visit the hookers work room?

Amsterdam invited everybody for a free visit to a brothel, not for exercising ofcourse, to a (porn X rated) video cabin investigation, striptease & pole dancers and some erotic milf hunters moves making ladies in a peepshow, to show her positive side.
Prostitutes blabbed their secrets of the trade: undress the men yourself, wash them with soap not only for cleaning , but for smoothing up the arousement and the climax!
The heart of the Amsterdam prostitution district are the streets the Oudezijds Voorburgwal and Oudezijds Achterburgwal, the oldest part of Amsterdam, Holland. Or watch the amsterdam live cams.
---
Sex Doll Fan mistaken for Murderer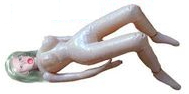 A German suspected murderer has been cleared by police after it emerged a "corpse" in his possession was in fact a new addition to his silicone sex doll collection.
It appears that the police disturbed him as he was acquainting himself with his recent purchase. The doll was of a silicone variety, a more lifelike appearance than the standard inflatable sex dolls. Police left the man, after he showed them his collection of his 4 girlfriends alias sex toys.
Like the Alfred Hitchcock's classic film "Rear Window", a zealous neighbour called the police after seeing the man carrying what he believed was a dead body in the city of Munich, Germany.
---
Virtual Sex Revolution in Canada
Are you one of them? Study in Canada: 87 % of more than 2500 interviewed canadian adult students say that they have sex via instant messenger, webcam or telephone, virtual sex is porn-popular!!
---

Russian Senior Pornstar
A senior citizen of Russia arrived by mistake at the auditions of a porn movie.
He thought that the entrance posters where aiming on a natural bodybuilding show. The director was so impressed by the nude russian shape/figure of the elderly man, he asked him to audition.
Meanwhile the 75 year old man has already a couple of XXX sex movies to his name, among 'The Old Neighbour' and 'The Handyman Work'.
---

Sex behind the Steering Wheel
A spicy survey in 16 countries came with some disturbing news: 7% of the Dutch had sex while driving in their european car and the always passionated southern countries, like Italy and France ended far behind with 3%. Car wash needed here!
Holland drives you nut & hot!!